With support from The Jerome Foundation and The ​NYC Women's Fund for Media, Music and Theatre by the City of New York Mayor's Office of Media and Entertainment in association with The New York Foundation for the Arts. 
Japanese immigrant composer, Migiwa Miyajima, highlights stories of Japan's 2011 earthquake survivors and her own journey through her music and a quote book.
"Have you ever thought about what "resilience" looks like in your life?" - Migiwa Miyajima
Have you ever thought about what "resilience" looks like in your life? 
This question has pushed me forward, and now I am finally here, sharing with you stories of "resilience" through beautiful words and original music based on the stories of real people.  People who have demonstrated Unbreakable Hope and Resilience. 
I am composer Migiwa Miyajima.  I am also one of the survivors of the Great East Japan earthquake in 2011. It was an unbelievable tragedy where many lives were lost and many are still missing to this day.  I moved to New York in 2012 and as part of my healing process, I started interviewing survivors and volunteers who also experienced this event first hand. Over time, I collected 15 individual life stories. 
Every interview knocked me out … because everyone shared encouraging and empowering words about life despite having lived through the challenging experiences. It was the most powerful life lesson I have ever had. Even after witnessing unspeakable tragedy, their words spoke of peace and happiness as they moved forward and are now walking their life paths again. 
I now want to share these stories with the world focusing on the beauty and resilience of the human spirit in the face of tragedy. 
I realized that the best way to express these stories and feelings was through a combination of words (quotes from the survivors themselves) and of course, through music. I truly hope these two components of this project give you some inspiration about life. Join me to make the impact even stronger!
Migiwa Miyajima Composer, Producer, Interviewer of this project
The Unbreakable Hope and Resilience Project has two expressions
1. "Your Future Story" (Hardcover or digital Book + Music) on sale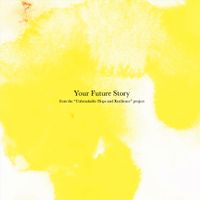 The first expression, "Your Future Story" is a book with accompanying music. It includes
●13 beautiful quotes about life from the interviewees, including my own words
●Three original compositions 
"The Intro - Your Future Story" and "10 Years and Counting" are newly recorded pieces by my 17-piece Miggy Augmented Orchestra in remote-recording style. 
The third accompanying composition is a remixed version of Captain Miggy's Age Of Discovery, from my 2018 album "Colorful."  This 2021 version includes all 17 members' solos.
The book will be a limited edition and only 500 copies will be available. There will also be a fully digital representation of the book called  "Your Future Story - living video book".
2. "10 Years and Counting" (Musical album - CD or digital download)
The second expression, the "10 Years and Counting" recording which will be released in December 2021 is a full-length album of 10 movements inspired by the stories from the people I interviewed. The Miggy Augmented Orchestra will record this music in early winter 2021 and as a participant, you will have access to the creative process as the recording unfolds. When you participate as an Ambassador or Silver, Gold, Platinum participant, your name will be included in the artwork of "10 Years and Counting" recording, and you will receive both the Limited Edition "Your Future Story" book and the "10 Years and Counting" recording on CD.
Press Photos (記事等でお使いいただけます)
「Your Future Story」でご紹介したみなさまについて